THE IAN HUNTER STORY
Introducing a whisky as legendary as the man who made Laphroaig what it is today
Introducing a whisky as legendary as the man who made Laphroaig what it is today.
This series of rare and collectable aged whiskies celebrate the story of Ian Hunter, the last of the Johnston family to own and manage the Laphroaig distillery between 1908 and 1944. When describing Ian Hunter, you could very well be describing the taste of our whisky. Both being unique, distinctive, full of character and not always for every one. But despite his polarising personality, Ian Hunter made Laphroaig what it still is today: a whisky enjoyed the world over by a wide and diverse community of Friends.

During his tenure, Ian Hunter brought together the characteristics of the ancient soil of Islay, the famed nature of the people who live here the art of distillation to set the foundations of Laphroaig and the whisky that you hold in front of you now. Ian secured the distillery's lease in 1922, broke into America in the time of Prohibition, was the catalyst for a revolution in the use of American White Oak and is the reason why we are still among a handful of distilleries to maintain our own malting floors today. He put his heart and soul into ensuring Laphroaig was a whisky like no other.

Each release in the Ian Hunter series contains a rare and aged Laphroaig®, set into a beautifully crafted book that documents a part of Ian's rich legacy – a legacy that still lives in our whisky. Every year a new chapter is told, uncovering the extensive history behind Laphroaig and the characters who created it, making this a collection unlike any other, and one that is treasured by Laphroaig fans across the world.

BOOK 1:UNIQUE CHARACTER
30 YEAR OLD 2019 IAN HUNTER
The first chapter in The Ian Hunter Story, Book 1: Unique Character represents Laphroaig traditions born out of Ian Hunter's formidable character and unyielding influence.

This 30-year-old non-chill filtered whisky aptly aged in first-fill bourbon barrels is where Ian Hunter's influence is most obvious, having been the catalyst for introduction of American white oak barrels into the maturation process of Laphroaig,

Over time, the original smokiness of this 30-year-old whisky has become less of an assault on the senses. Beautifully married with the sweet vanilla notes enhanced with ageing, the whisky develops into a more mature, well-rounded dram.

This is a liquid worth savouring – and a Laphroaig worthy of Ian Hunter himself.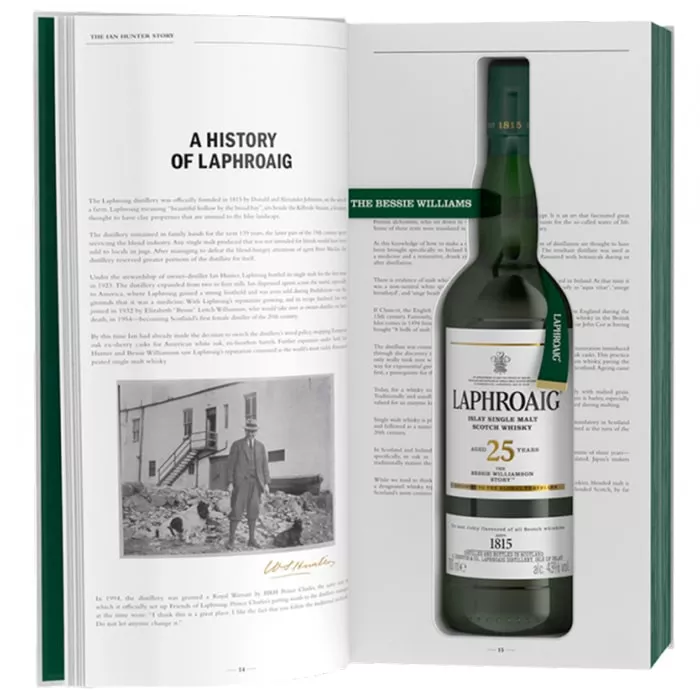 BOOK 2: THE ICON
30 YEAR OLD 2020 IAN HUNTER
The second release in our Ian Hunter Story pays tribute to the Icon that Ian Hunter built more than 100 years ago and honours his understanding that no one thing is more important to the creation of Laphroaig than the place it comes from – Islay and the 'hollow by the bay' where Laphroaig® first came into being.

Aged for 30 years in Spanish Oak Oloroso Sherry oaks, this non-chill filtered whisky is underscored with Laphroaig's signature characteristic peatiness, making this second book a unique peated single malt whisky journey through history.
BOOK 3: SOURCE PROTECTOR
33 YEAR OLD 2021 IAN HUNTER
This 33-year-old Vintage 1987, Ex-Bourbon Barrel Matured Single Malt is the third release in our series of rare and collectable aged whiskies to celebrate the story of Ian Hunter.

Book Three: Source Protector celebrates the legacy of Ian Hunter, the last of the Johnston family to own and manage the Laphroaig® distillery, and his fight to protect the Kilbride Stream. This is a story of uncompromising guardianship and a battle between neighbours, over every distillery's essential lifeblood, its source of water.

Having been fully matured in ex-Bourbon barrels, Laphroaig's characteristic peatiness really shines through the creamy liquorice notes of this 33-year-old single malt, creating a whisky as distinctive as the man it's named after.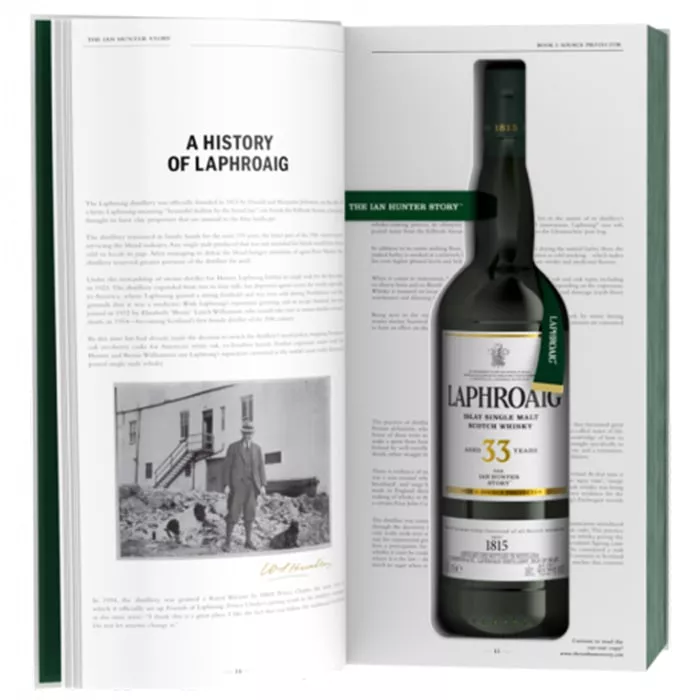 BOOK 4: MALT MASTER:
34 YEAR OLD 2022 IAN HUNTER
The latest release in this series of rare and collectable aged whiskies celebrates Ian Hunter as the Malt Master, honouring his legacy of establishing our malting floors and the impact they still make on the taste of Laphroaig today.

This 34-year-old single malt was carefully crafted from our own floor-malted barley and aged in the American White Oak casks and finished in Oloroso Sherry casks. Perhaps not for everyone, this will be a taste like no other.